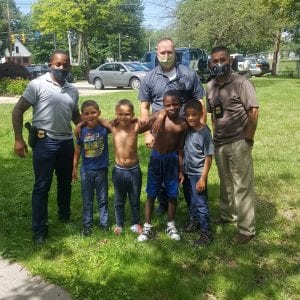 This is what it's all about! Homicide Detectives TJ Powell, Luis Rivera, and David Shapiro were cruising and pulled up to see these youngsters throwing a football.  Then the kids saw the cops!!  The detectives jumped right in to the game!
Afterwards, the detectives bought ice cream for everyone and passed out stickers!!  As they were leaving, the kids asked for a photo with the officers.  The detectives couldn't pass up the opportunity to make these youngsters smile!!
Being a Front Line Essential Worker (F.L.E.W.), is an opportunity to bless someone and touch lives.  It's all about giving back, something as small as spending time with a child, to leave a positive lifelong impression on them!