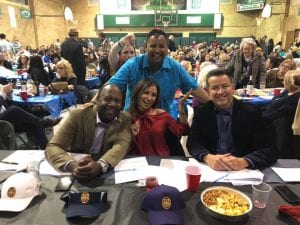 The gym at St. Thomas More in Brooklyn was filled with over 400 guests enjoying the karaoke contest and Rascal House pizza!
The proceeds from this event go toward Cops for Kids programs and the Hero Fund, a charity which helps support Cleveland Police officers with debilitating illnesses or injuries.
Sergeant Tim Higgins emceed the event which culminated in a tear-jerking rendition of "My Way" by Captain Keith Sulzer. Winners of the contest included patrol officers as Salt-N-Pepa!
Thank you to judges Chas Shramek of Proforma Connected, Retired CPD Jeff Stanczyk, and from Fox TV8: Kenny Crumpton, Natalie Herbick, and Gabe Spiegel!!
The Cleveland Police Foundation thanks everyone for their support of this inaugural event!!