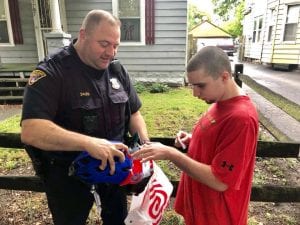 First District Officers Ross and Raddell recently responded to a call for a missing endangered adult, but fortunately, Elvis, an 18 year old young man with special needs, returned home. The officers found Elvis to be an affectionate young man and were told by his mother that he is often bullied, particularly when he rides his sister's pink bike.
When the officers found out that Elvis' favorite color is red, they reached out to the Cleveland Police Foundation to get Elvis his own red bike. CPF and Cops for Kids bought Elvis a bike and new basketball plus the officers pitched in to buy him a CPD hat and a special blue helmet with flashing lights!!
Elvis couldn't believe he had his own bike and rode it proudly down the block!!
Thank you Officers Ross and Raddell for showing us what community policing is all about!!  First District Community Relations