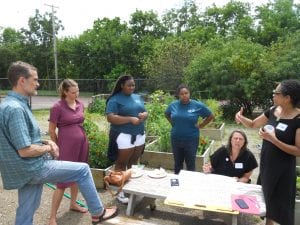 The Community Innovation Network is an offspring of the Jack, Joseph and Morton Mandel School of Applied Social Sciences of Case Western Reserve University. It is composed of community and social change professionals who meet on a monthly basis around the city.  The goal of the network is to connect peers, share wisdom and learn about the different organizations represented by those attending.
At the July meeting following a group welcome and light lunch, those of us attending were divided into five different groups and had the opportunity to discuss our individual affiliations and our goals and missions.
When asked about the Community Innovation Network's program, team leader Xinyuan Cui stated "It is our goal to bring people from different organizations throughout the community together to build a network and by learning about these organizations help to make them even more viable and stronger."
Thank you Xinyuan and the Community Innovation Network for the invitation.  It was interesting to learn about the diverse organizations and a great way to explain to the folks attending the mission of the Cleveland Police Foundation.
Submitted by Bob Guttu, CPF Community Outreach Coordinator