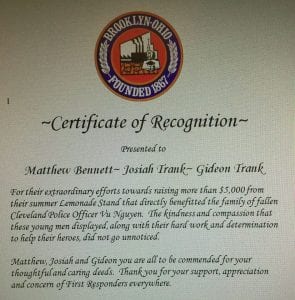 City of Brooklyn Mayor Katie Gallagher recognized residents Matthew Bennett, Josiah Trank and Gideon Trank at the September 10th City Council Meeting.
These young men held a summer lemonade stand and raised over $5,000 for fallen Cleveland Police Officer Vu Nguyen's family. The kindness and compassion that these young men displayed, along with their hard work and determination to help their heroes, did not go unnoticed.
A big Thank You to Matthew, Josiah and Gideon for their support, appreciation and concern for First Responders everywhere.