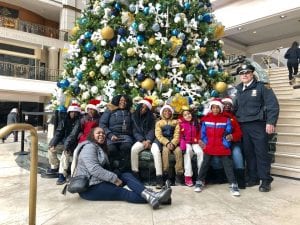 Captain Sulzer from Community Policing had the opportunity to spend the day with some wonderful students and staff from Wade Park Elementary that wanted to give to those in need!!
The kids and staff made over one hundred gift bags and distributed them to the residents at the Salvation Army. Then they all got to hang out with the Talking Christmas Tree at Tower City and had lunch, and then each kid took the time to shop for a Christmas gift for their mothers.
The Cleveland Police Foundation, thanks to a donation by our friend Mike Barrett, treated the kids to Mitchell's Ice Cream.
Great job by Wade Park's Eloise Bullock, Ms. Jackson, and Principal Buddy for teaching our children well!!
Merry Christmas!!