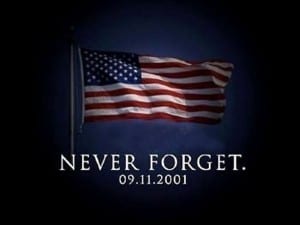 Ceremony to Remember September 11, 2001 in Brookpark Ohio Sunday Sept 7th
A Ceremony will be held at Kennedy Park/Veterans Memorial/9-11 Memorial in Brookpark Ohio on Sunday September 7th at 11:00 AM. The Brookpark 9-11 Memorial is located on Sylvia Drive, off Engle Road. The Brookpark American Post 610 will present the Flag and Shelby Holt-Komar will sing the National Anthem. Deacon Roger Polefko, of St. John's Bosco will give the Invocation.
Speakers include retired NYC Firefighter John Murphy; LtCol. Ford Phillips of the 3rd Battalion 25th Marines; Sharon Deitrick of the Akron Halo Foundation/Flight 93 Memorial/Valor Home in Lorain and Brookpark Mayor Coyne. Organizer John "KIKS" Kikol encourages the public to attend and expects several hundred motorcyclist to join in a processional ride following the Ceremony from Brookpark to Lake Erie Harley Davidson in Avon Ohio.
The Ceremony is in honor or the 2977 Americans that lost their lives on September 11, 2001 (including 343 NYC Firefighters and 72 Police/Port Authority) and the 6850 men and women Fallen Heroes who gave all in the wars on terrorism in Iraq and Afghanistan. The Ceremony will close with the American Legion firing their rifes, taps and the members of the Cleveland Firefighters Pipes and Drums playing Amazing Grace.
The twenty five mile Processional Ride will begin at 11:45 AM and will travel through Brookpark, Olmsted Township, Cleveland Metro Park, North Olmsted, Westlake, Bay Village, Avon Lake and Avon Ohio. Lake Erie Harley Davidson will host a Post Ceremony gathering at their Dealership from 12:30 to 3 PM with food and entertainment. There is no cost to join in the Processional Ride however all riders and passengers must sign a waiver of liability. The Ceremony and Processional Ride will take place regardless of the weather.
For more information please contact John "KIKS" Kikol organizer at 440-263-8121.