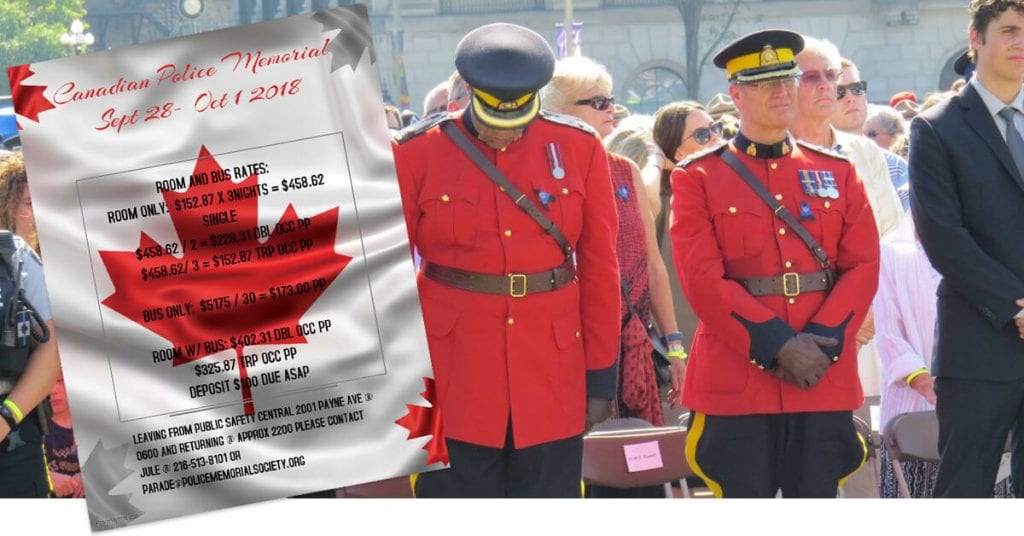 Hosted annually by the Ottawa Police Service and the Canadian Police and Peace Officers' Memorial, this event gives Canadians an opportunity to formally express appreciation for the dedication of police and peace officers, which made the ultimate tragic sacrifice to keep our communities safe. In solidarity, the Greater Cleveland Peace Officers Memorial Society is coordinating a trip to Canada from Cleveland, and we would love it if you could join them.
They're leaving from Public Safety Central, 2001 Payne Ave. at 6 a.m. September 28, and returning around 10 p.m. Oct. 1, 2018.
To reserve your spot and make the $100 deposit, please contact Jule at 216-513-8101 or parade@policememorialsociety.org.
Room and Bus Rates
Room only
Single: $152.87 x 3 nights = $458.62
Double: $458.62 / 2 = $229.31 DBL OCC PP
Triple: $458.62 / 3 = $158.87 TRP OCC PP
Bus only
$173 PP
Room with bus
$402.31 DBL OCC PP
$325.87 TRP OCC PP
Deposit of $100 due ASAP