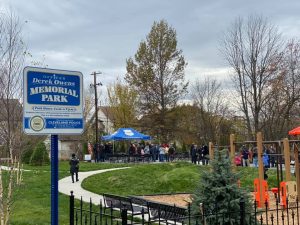 Located on Parkview Avenue in the Cleveland Police Fourth District, the reflective park is in the memory of Officer Owens and in unity with his family as a way for the community to show their respect and condolences.
Cleveland Police Officer Derek Owens was shot and killed in March 2008 while responding to a call on Parkview Avenue in the Fourth District.  He loved serving his community and left behind his wife, Ericka, his two children Sydni and Chandler, his parents, Wayne and Barbara, and his sister Dawn.
Built and maintained by The Cleveland Police Foundation for the enjoyment of the neighborhood, the CPF is the owner in perpetuity of the park and will provide the maintenance and upkeep.
An ongoing tribute to an outstanding Patrol Officer, Derek Owens!