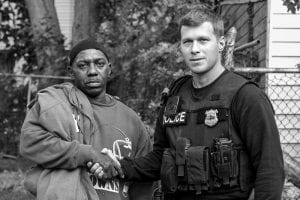 Powerful images of African-American men standing with Cleveland Police officers. This ongoing project has been working since August 2016 to build better relationships between groups. The show features the best of more than seventy portraits. It includes the work of Darlene Beiter, Janet Century, Billy Delfs, and Steve Wagner.
Friday, Jan. 13, 6-8 p.m.
Celebration for B&B participants, family and friends. Invitation only.
Saturday, Jan. 14, 7-9 p.m.
Grand opening, free and open to the public.
For more information click here