On August 8, the Cleveland Police Foundation and the Cleveland Downtown Alliance joined together to present the Cops and Kids fishing outing at Voinovich Park.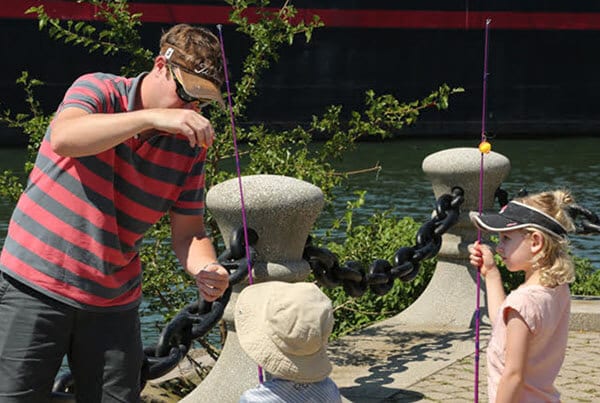 The morning began a little cool with a north breeze off the lake but things warmed up fast as kids and officers began arriving, all of them anticipating a fun day of fishing. The group gathered for an instructional presentation by Captain Vytas of the Linda Mae fishing boat who discussed safety and how to handle the fishing rods while on board the vessels. The enthusiastic group of officers and kids boarded three boats and headed out of the harbor. But the lake was choppy so the boats remained within the break wall, limiting their haul of fish.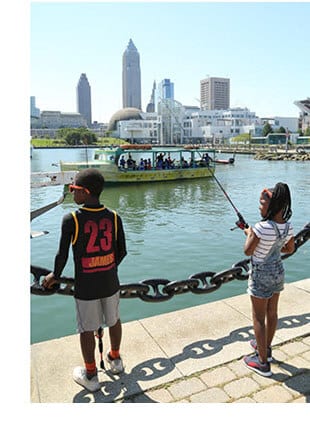 Around noon, the fishing participants joined a large group of kids and parents who were invited through social media to enjoy lunch, games, and shore fishing. There was interaction with not only the officers that fished but also officers from the S.W.A.T., Motorcycle, Mounted, and K-9 Units. Lunch was served by Community Policing 's Captain Keith Sulzer, who cooked over 400 hot dogs, consumed by the hungry participants within an hour and a half. Perhaps we should have had a representative from the Guinness Book of Records to see if we set a record with those numbers! Also in attendance was Mayor Frank Jackson, Safety Director Mike McGrath, Chief Calvin Williams, and numerous city dignitaries.
Even though there weren't many fish caught, it certainly was encouraging to see the officers and the kids interacting on the boats as well as on the shore. I'm sure all of them will remember this day for a long time to come. I would like to thank all the officers and volunteers that helped to make this huge event a success. I also must thank Jessica Kerr of the Downtown Cleveland Alliance and her helpers for a job well done, Captain Sulzer, and my ex-partner on the job, Dave Oxley who helped feed what seemed to be an endless line of hungry kids and parents. Looking forward to seeing you all next year!