The Cleveland Police Foundation is honored to recognize Patrol Officer Taylor Bohlen as our August 2019 Police Officer of the Month.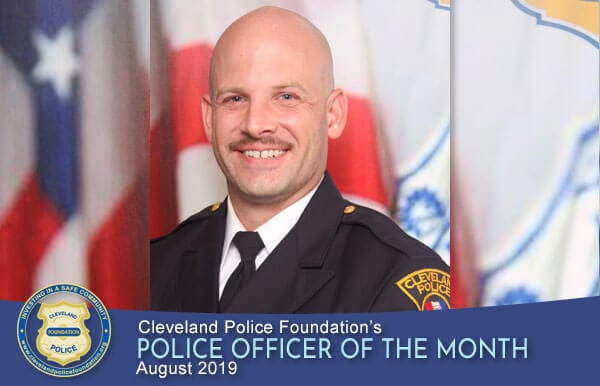 Cleveland Division of Police Patrol Officer Taylor Bohlen is assigned to the NICE Unit (Neighborhood Impact Community Engagement), so it wasn't very surprising that he recently played a significant part in saving a life. Ashley Spencer was walking down the stairs at Cleveland City Hall when she experienced a severe asthma attack and frantically waved to Officer Bohlen, who was standing nearby. Ashley collapsed while PO Bohlen assessed the situation, could not find her pulse, and immediately administered CPR, saving her life.
After the incident Ashley recalled, "I was taking my inhaler and it wasn't working and in a matter of seconds I went down for the count."
Officer Bohlen remarked, "I was able to put my prior work experience to use as well as the training I received from the department. Combining that with being at the right place at the right time made everything come together." Officer Bohlen also made it a point to visit Ashley at the hospital to check on her condition.
Officer Bohlen's immediate supervisor, Lieutenant Arneil Rose commented, "I first met Patrol Officer Taylor Bohlen at the Fifth District. From the beginning you could tell he was serious about his career path. He already had a label of service about him from his previous EMT training. Officer Bohlen is new to the NICE Unit, but I remember from his interview that he expressed that he wanted to be of service to the NICE unit. How lucky we and the citizens of Cleveland are to have him."
It is because of his caring for the citizens he serves and his devotion to his work that the Cleveland Police Foundation is proud to name Patrol Officer Taylor Bohlen as its Police Officer of the Month for August 2019.