The Cleveland Police Foundation proudly announces that the recipients of our Community Partners of the Month Award for August 2019 are Lauren Nicoloff, Evan Berliner (both from First Interstate) and Randy Harris (Steelyard Target)!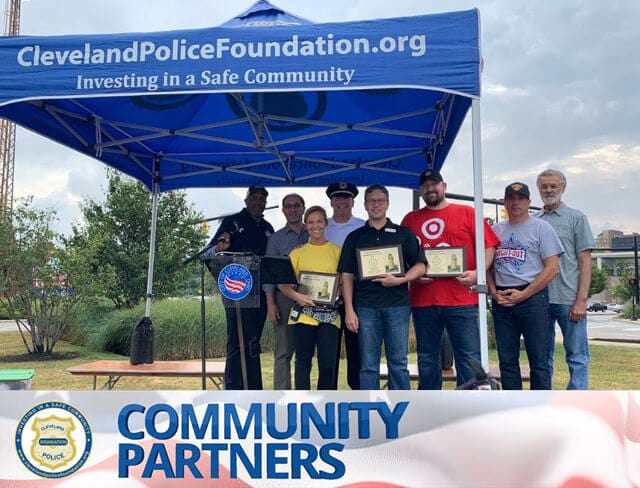 The City of Cleveland has celebrated the National Night Out Against Crime event for 36 years, and for the last 13 years, First Interstate Properties has hosted the event at Steelyard Commons.
The First Interstate team of Evan Berliner and Lauren Nicoloff have done an amazing job of organizing and planning the event and have helped make the Steelyard National Night Out one of the largest in the nation.
Steelyard Target and Randy Harris and team have been tremendous partners for NNO.  Not only do they contribute financially, but also bring many Target employee volunteers to help cook, set up, and serve.
The City of Cleveland and Cleveland Police Foundation value these partnerships formed through NNO and understand that strong partnerships like these build a stronger community.
It is because of this investment in our community and dedication to helping Cleveland Police better connect with our community that the Cleveland Police Foundation is honored to name Lauren Nicoloff and Evan Berliner of First Interstate Properties, as well as Randy Harris and his Steelyard Target team as Community Partners of the Month for August 2019.