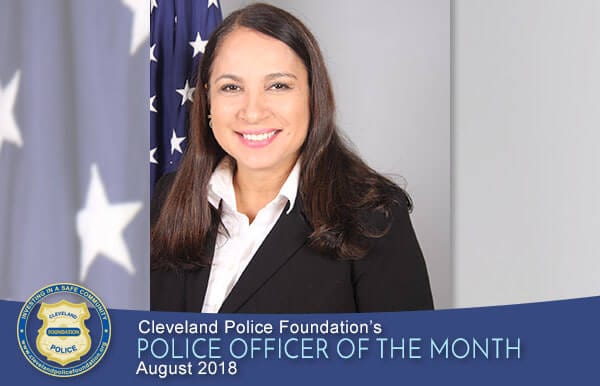 Although her day-to-day work assignment in the Cleveland Division of Police Homicide Unit is somewhat different, Sergeant Evelyn Montalvo is a strong advocate of Community Policing. Evelyn participates every year in the Cleveland Police Foundation's Plane Pull at Cleveland Hopkins Airport to benefit the Special Olympics. She also donates generously to our CPF and Cops for Kids events, is an advocate for the mentally ill, and she volunteers countless hours to persons with disabilities.
Sergeant Montalvo also cares about her community. Recently, while walking her dog Khali she noticed a suspicious male wearing a hoodie in 80+ degree weather walking across the lawn and down the driveway of a Kamm's Corners neighborhood resident. The sergeant then noticed the suspect entering a rear window. She called out to the suspect that she was the police and the suspect immediately dropped from the window and froze, not knowing if Montalvo was a canine officer and if Khali was going to attack. The suspect fled on foot, at which time Sergeant Montalvo returned to the front of the house and called 911 for assistance, relaying the description of the suspect and vehicle to them. Sgt. Montalvo remained on the scene until police arrived and ensured SIU would respond for possible prints. Approximately a week later, Sgt. Montalvo followed up with the extremely grateful resident, who expressed as much by a letter of appreciation for Montalvo's actions. The resident sent the letter to Cleveland Police Chief Williams and the Kamm's Corners Development Corporation, who also expressed appreciation and gratitude for Sgt. Montalvo, as a Cleveland Police Officer, and a neighborhood resident.
It is because of this dedication to the Community Policing concept and her caring for the community in which she resides that the Cleveland Police Foundation is proud to name Sergeant Evelyn Montalvo as Police Officer of the Month for August 2018.
More about the Police Officer of the Month Program . . .