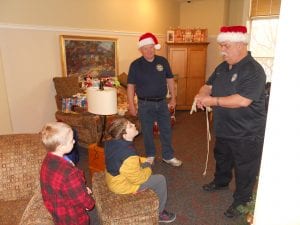 The 38th Annual Cops for Kids and Christmas Celebration was held at Ronald McDonald House with the support of the Cleveland Police Foundation. The facility was beautifully decorated for the season and to anticipate the arrival of Santa Claus.
This event started when now-retired CPD Officer John Thomas' son was treated for an illness at the Cleveland Clinic.  Officer Thomas and his colleagues from the 2nd District decided to throw this yearly party for kids fighting illnesses while away from home for the holidays. The kids received t-shirts, toys, sang Christmas carols with the officers, and of course got to sit on Santa's lap.
Once again, you could tell the party was a success by not only seeing the smiles on the children's faces but on the officer's faces as well!
Thanks to all the officers and volunteers for making this a special day for some very special kids. Merry Christmas! See you all next year!
Submitted by Bob Guttu, CPF Community Outreach Coordinator