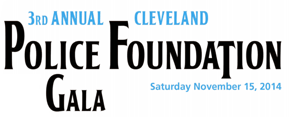 Thanks to our community partners who sponsored our 3rd Annual Gala and all who attended. Your support made it possible to further the mission of the CPF.
The Cleveland Police Foundation is an alliance of business and civic leaders, organizations and individuals committed to the ideal that an educated, well-trained and modernly equipped police department leads o a safer community for all.
Its mission is to strengthen the bond between members of the Cleveland Division of Police and the citizens it serves by providing funding for youth and community outreach programs, community policing initiatives, crime prevention and safety programs, police charities, support for the members of the Division of Police to help them better perform their duties, investment in advanced education and training, and funding for specialized equipment and technology.
Unity in the Community
Handgun & Assault Weapon Buy Back
Cops for Kids Fishing Outings
Cleveland Police Children's Holiday Party
Helped Purchase Uniforms
Supporting of Youth Athletic Programs
Supporting GCPOMS Memorial & Service
Cops for Causes
Partnering with Umbrella Charities
D.A.R.E. to Resist Drugs and Violence
Our Officers Wellness and Physical Fitness
CPD Law Enforcement Explorer Post