Our Honorees
"We make a living by what we get. We make a life by what we give." These words by Sir Winston Churchill are apropos for who we recognize tonight. It is our pleasure to recognize six amazing individuals and organiza- tions who have made significant contributions to improving the quality of life in our community. Through their deeds, philanthropy and support of our police officers, they certainly have gone above and beyond the call of duty. Their collective efforts have made our world a better place to live.
Outstanding Community Service by an Organization Awards: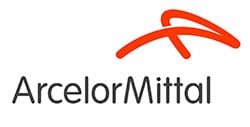 ArcelorMittal Cleveland
Our City is extremely fortunate to have many businesses and organizations that are committed to being part of the community, playing an integral role in improving the quality of life in our neighborhoods.
Since its beginning, Cleveland's steel industry has been inextricably linked to community. As employees and their families, many immigrating to the area for work, settled in clusters near the mills over the decades, new neighborhoods were born.
A century later, ArcelorMittal Cleveland remains closely tied with these neighborhoods and the surrounding city and region. Last year, ArcelorMittal provided nearly $750,000 to local programs focused on health and safety, education and the environment, working with community partners to provide safe after-school oppor- tunities for youth, improve science and math education, protect and restore waterways, greenspace and natural habitats, and more. The Cleveland facility's 1,800+ employees multiply this impact by generously donating their time and dollars.
For the past seven years, ArcelorMittal has supported the City of Cleveland's gun buy-back program, and more than 1,300 weapons have been collected. The program is a natural extension of the company's internal commitment to health and safety. An example of true partnership, ArcelorMittal also melts and recycles the collected guns at its steelmaking shop, transforming something that could be used for violence into new steel that will eventually become a car, washing machine or other consumer good.
Tonight, the Cleveland Police Foundation is proud to recognize ArcelorMittal Cleveland for its efforts and commitment to making our community safer.
Cleveland Police Patrolmen's Association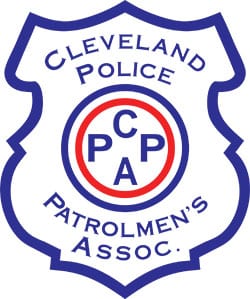 The Cleveland Police Patrolmen's Association was formed in 1969, born out of the most tragic day in the history of the Cleveland Division of Police. On July 23, 1968, militants ambushed and murdered three police officers and severely wounded many others. A fourth officer died years later as result of the wounds inflicted that day. While there was no shortage of valor among the officers during the unprovoked at- tack and ensuing violence, there was an obvious shortage of necessary equipment, which might have saved lives and prevented injuries. Six months later the CPPA was formed.
The CPPA's mission includes serving as the bargaining unit for 1283 Patrol Officers, Detectives and Dispatch- ers, provide aid, protection, and for the general welfare of its members, their families, and the community.
In addition to its pledge to protect the rights of their members, the CPPA goes above and beyond the call of duty in giving back to the community. Their membership supports and conducts year-round efforts to come to the aid of less fortunate kids and families with such programs as: Shop with a Cop, "Calling all Kids" Easter basket give-away; supporting families of officers killed in the line of duty, Cleveland Police Children's Holiday Party, Heroes Run, ArcelorMittal – City of Cleveland Gun Buyback, Cops For Kids, and many more other less structured but impactful acts of kindness.
The CPPA's community outreach is extensive and often overshadowed by its other higher profile endeavors. Their community service efforts shed favorable light on all members of the Cleveland Division of Police and foster a positive image of law enforcement. Tonight, we are proud to recognize their community service.
ESPN Cleveland WKNR 850 & KNR2 1540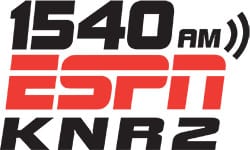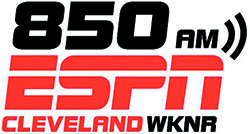 Good Karma Broadcasting, LLC is a sports marketing company with expertise in sports radio and event marketing. GKB operates nine ESPN affiliated stations, including eight in Top 100 markets, in addition to three other radio stations throughout the country. The company is passionate about offering unique solutions to its partners within the sports marketing arena, and has grown into a marketing enterprise with solutions ranging from digital, wireless, mobile, event, television partnerships, sponsorships and personality endorse-
ments. GKB owns and operates two all-sports stations in Cleveland, ESPN 850 WKNR and ESPN 1540 KNR2 as well as ESPNCleveland.com to serve the fans of Cleveland sports.
GKB supports numerous community and charitable organizations throughout its markets; though its signa- ture events are annual radiothons, including the ESPN Cleveland and Cleveland Clinic Children's Radiothon, which raised over $85,000 in its first year, as well as the GKB Radiothon in Beaver Dam, Wisconsin benefit- ting children's charities, which in its 16th year (2013) raised over $116,000.
In addition to supporting numerous community and charitable organizations, members of the ESPN Cleve- land team are encouraged to join community and charity organizations, and currently sit on boards or support the following: The Cleveland Sports Commission, Boys and Girls Club of Cleveland, Presidents Council Foundation, American Jewish Committee, A Kid Again, St. Ignatius Alumni Board, Cleveland Police Founda- tion (and it's umbrella charities), Little Sisters of the Poor and Big Brothers Big Sisters. Tonight, we are proud to recognize their dedication to community service.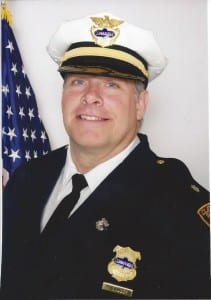 Commander Keith Sulzer
Outstanding Community Service Award
Commander Sulzer is a graduate of St. Edward's High School and received a Bachelor's Degree in Business Economics from the College of Wooster. On June 19, 1990, Mr. Sulzer began his career with the City of Cleveland, Department of Public Safety, Division of Police, in the 5th District as a police officer. Through- out his career he has progressively prospered with the Cleveland Police. On July 25, 1997, he was promoted to Sergeant of the 6th District, in June 2000 pro- moted to Lieutenant of the 1st District, in June 2005 promoted to Captain of the 4th District; and on July 30, 2007, he was appointed to Commander of the 2nd District and has held that position since.
As Commander of the Second District, Commander Sulzer has sponsored, partic-
ipated in, and helped organize several charity events. As co-chair of the 2nd Dis-
trict Police Community Relations Committee he organizes several fund raising
events each year, from pancake breakfasts and spaghetti dinners, to dunking
booths and chili cook-offs. These fund raising events support the 2nd District's annual Children's Christmas Party, an event that identifies the neediest 200 children in the District, and provides Christmas presents, lunch, and a party with Cleveland's own Singing Santa. The 2nd District and Santa also visit and provide presents to children from Providence House and The West Side Catholic Center.
Along with IHOP, Commander Sulzer organizes a team to compete against Cleveland Fire in a pancake-eat- ing contest. This contest kicks off IHOP's February pancake month, during which IHOP donates money per plate of pancakes sold to the Children's Care Network (sponsoring hospitals such as Rainbow's Children and Babies Hosp.). This event alone has raised thousands of dollars for the Children's Care Network.
In 2011 Commander Sulzer and the 2nd District sponsored a food drive and challenged the 4th District to see which district could fill a U-Haull truck in 24 hours. This challenge provided over 7,000 pounds of food to St. Augustine's Hunger Center and to the Cleveland Food Bank.
Annually, Commander Sulzer enters teams in the Special Olympics Plane Pull at Cleveland Hopkins Airport, pulling a 130,000 pound plane 12 feet. His teams have raised over $12,000 for Special Olympics.
Commander Sulzer and the 2nd District officers annually host a baby shower for Providence House, a crisis nursery in Ohio City. This baby shower provides thousands of dollars of much needed supplies for the resi- dents of Providence House.
In 2012, Commander Sulzer hosted Cleveland's Strongest Cop contest in conjunction with Chief McGrath and the Cleveland Police Foundation. This all-around weightlifting contest raised several thousand dollars for the Cleveland Police Foundation and the YMCA Strong Kids Campaign. Plans are in the works to hold more fitness style events to raise funds for the CPF, and to encourage wellness for police officers.
The Cleveland Police Foundation is proud to bestow upon Commander Keith Sulzer the 2013 Outstanding Community Service Award, for his dedication, leadership and success in serving our community and for es- pecially reaching out to our citizens who are most in need and bringing the human side of the officer to our neighborhoods.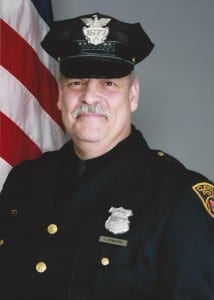 2013 Cleveland Police Officer of the Year
Patrol Officer Jeffrey Stanczyk
The Cleveland Police Foundation presents to an officer who demonstrates outstanding devotion to duty and con- sistently performs to the highest degree, far beyond that established by their peers, The Police Officer of the Year Award. Tonight we are proud to recognize and celebrate the distinguished career of one of "Cleveland's Finest", Patrol Officer Jeff Stanczyk.
Jeff Stanczyk served as one of The Cleveland Division of Police first D.A.R.E. officers for six years. Appointed Au- gust 16, 1980, he was a full time Academy instructor for three years and in the Bureau of Community Policing for fourteen and a half years. While in Community Policing, he was a mini-station officer and is currently teaching OPOTA curriculum at the Cleveland Police Academy, Cuyahoga Community College and Lakeland Community College. For ten years, Jeff was assigned to the Second District.
Officer Stanczyk's many commendations include:
The Valor Award, Distinguished Service Medal, and The Chief's Commendation. Numerous other awards and let- ters of recommendation and letters from residents and citizen groups who recognize his professionalism fill his personnel file and laud his sincerity and caring attitude toward the public he serves.
Jeff participated in Public Service programs taped on the City's TV Channel 20 in connection with safety issues including general safety, women's safety, child safety and other community concerns. He proudly sang our National Anthem at several Cleveland Indians games a Cleveland Browns game as well as numerous City hosted functions.
Born and raised in Cleveland, he attended Cleveland Public Schools and graduated from John Marshall High School in 1973, after which he graduated from the Ohio State University in 1977 with a Bachelor of Science in Wildlife Biology. Jeff now resides in Avon with his wife Caroline (Boots). They have two sons Adam and Eric. Adam graduated from the University of Akron and is working to become a Physician's Assistant. Eric is enrolled at Akron University working to become a pharmacist.
Jeff looks forward to his impending retirement in January 2014 with more than 33 years of service. Officer Stanczyk served the citizens of the City of Cleveland by these words: "It's not the patch on your shoulder, the firearm on your hip or the badge on your chest; it's what you carry in your heart that makes you a good police offi- cer, father and husband."
This evening we are proud to recognize Patrol Officer Jeff Stanczyk for his outstanding career, and wish him a long, happy and healthy retirement.
Founders Award
Three gentlemen were instrumental in the creation of the Cleveland Police Foundation. The "Founding Fathers" – Edward A. Lozick, Thomas D. Ganley and Samuel H. Miller – had the foresight, desire and determination to establish a foundation in support of the members of the Cleveland Division of Police and the collective mission of the police charities under its umbrella. With this award named in their honor, we are proud to bestow the 2013 Founders Award to David F. Young in recognition of the founder's vision, spirit and dedication to making our community safer.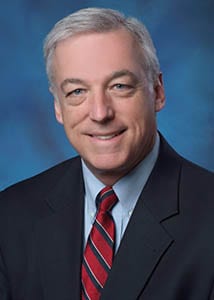 David F. Young
Founders Award Recipient
David F. Young was born to parents Jane (Fischer) and Edward Young, both of whom are lifetime Clevelanders, and was raised on the East side, along with brother Stan.
He earned a Bachelors of Arts in Economics at Williams College and an M.B.A. in Marketing and Finance from the University of Michigan. It was at UM that he met his wife of thirty years, Judy. Dave and Judy have four children.
After a postgraduate stint in Boston, Dave returned home to Cleveland, where he has been involved in small businesses ever since. He is the President of Budzar Industries, Inc. which designs and manufactures temperature control equipment for a broad spectrum of industries, including chemical, food, metalworking, paper, petroleum, pharmaceutical, power, plastic, rubber, steel, medical, and semi-conductor.
To the good fortune of The Cleveland Police Foundation, Dave served on the Board of Directors for two years, and was very instrumental in getting the organization up and running. His staunch support of the Foundation during the formation years was crucial to the progress and continued success of the efforts of the CPF.
It is with sincere gratitude and great honor that The Cleveland Police Foundation bestows upon David F. Young, the 2013 Founders Award. Thank you Dave, for your wisdom, advice, business acumen and partnership – we are proud to call you "friend".