The Cleveland Police Foundation is an alliance of business and civic leaders, organizations, and individuals committed to the ideal that an educated, well-trained and modernly equipped police department leads to a safer community for all.
Dear Supporter,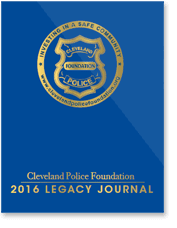 The mission of the Cleveland Police Foundation is to strengthen the bond between the Cleveland Division of Police and the citizens it serves by providing funding for youth and community outreach programs, community policing initiatives, police charities, investment in advanced education and training, and funding for specialized equipment and technology in order to help our police officers better perform their duties.
In addition, the Cleveland Police Foundation proudly supports the following charities in accomplishing their missions: Cleveland Police Athletic League, Cleveland Police Historical Society & Museum, Greater Cleveland Peace Officers Memorial Society, Cleveland Police Pipes & Drums, Cleveland Police Honor Guard, the Cleveland Mounted Police Charitable Trust and Cleveland Cops for Kids.
The 2016 Cleveland Police Foundation Legacy Journal was released in October 2016. The journal chronicles the many events, projects, programs, and organizations that we support throughout the year, and include a listing of community partners and advertisements from our supporters. It is due to the generous support of our partners and advertisers that we are able to continue working toward accomplishing our mission. The journal will be distributed to civic and elected officials, businesses, organizations, and individuals throughout the year.
We ask for your support by purchasing an ad in our 2017 Cleveland Police Foundation Legacy Journal, which will give you a full year of exposure. As a thank you for supporting the Cleveland Police Foundation with your ad, you will receive Cleveland Police Foundation courtesy card(s).
The contact person for this project is Barbara Ragon who can be reached at bragon@linearcreative.com or at 216-924-8024 if you have further questions.
Thank you,
Charles W. Lane, Jr.
Executive Director
clane@clevelandpolicefoundation.org
Purchase Ad
Contact Barbara Ragon via email at bragon@linearcreative.com or call 216-924-8024. Want to see what the Legacy Journal looks like? Check it out here.
Order form for Legacy Journal ad (pdf)